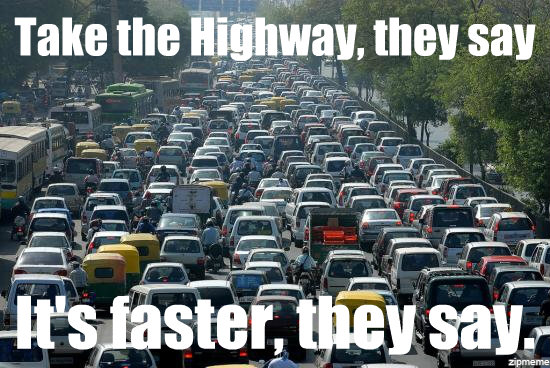 Innovation is the only way out of tough jams.
And few problems are more frustrating and impeding than traffic.
A company in China has designed and developed plans to launch a giant bus that would be elevated above the highway, straddling rails and even allowing other cars on the highway to pass underneath.
The futuristic rail-bus could carry as many as 1,400 and may someday prove to be a great solution for alleviating traffic – all without the need to build expensive new infrastructure.
via the London Guardian:
A Beijing company has unveiled spectacularly futuristic designs for a pollution-busting, elevated bus capable of gliding over the nightmarish mega-jams for which urban China has become notorious.

Plans for the so-called Transit Explore Bus or TEB were showcased earlier this month at a technology expo in the Chinese capital.

The "straddling bus", which owes more to Blade Runner than China's car-clogged highways, is supported by two legs that run along rails laid along the roadside.

Those legs allow the TEB's giant frame to glide high above the gridlock at speeds of up to 60km per hour. Equally, vehicles that are less than two metres high will be able to drive freely underneath the bus, even when it is stationary.

"The biggest advantage is that the bus will save lots of road space," Song Youzhou, the project's chief engineer, told Xinhua, China's official news agency.
It isn't clear when the inventive bus could appear on Chinese roads, but it may be a worthwhile solution.
Experts claim it will be drastically less expensive than expanding underground subway tunnels or adding lanes.
Here's a video of how the Transit Explore Bus might look like in action:
Instead, this bohemoth could be added to existing roadways with the simple addition of rail, and may prove to help with traffic woes.
What do you think?
Can highway travel be improved, or is everything doomed to simply grind to a halt?
Meanwhile, self-driving cars and other forms of automation are geared up to take over travel and revolutionize, for better or worse, they way people and stuff gets moved around.
Read more:
Self-Driving Cars Programmed to Sacrifice As They Hit the Road: "Someone Is Going to Die"
New Legislation Would Place Breathalyzers in All New Cars: "Drunk Driving Demands Bold Action"
Could You Escape Your Vehicle In a Disaster? "The Potential Is All Too Real"
SHTFplan and Mac Slavo www.shtfplan.com