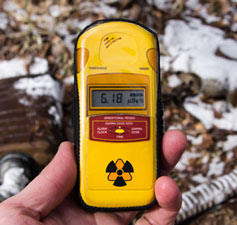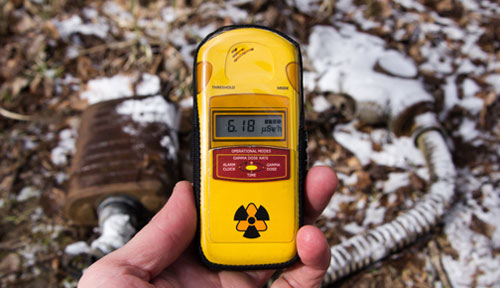 After countless reports about the potential for nuclear or radioactive weapons of mass destruction being smuggled into the United States, the State of Texas is has begun to take the threat seriously.
Via Houston Public Media:

Up and down the Texas Gulf Coast, the state's game wardens are on the water, looking for people fishing or hunting illegally.  But as we've reported, they sometimes come across things like illegal chemical dumpsites and more says Texas Parks and Wildlife's Tom Harvey.

"Game wardens encounter all kinds of things on their patrols, including a lot of illegal fishing, and this is a new threat we're gearing up to be able to address," Harvey told News 88.7.

That new threat is terrorism. One fear is that terrorists could try to smuggle radioactive material into the country by boat. The Port of Houston has for years had radiation detectors to scan cargo.

So now, besides guns and handcuffs, game wardens will have one more tool.

"We've acquired about a hundred devices that allow game wardens to detect radiological or nuclear emissions. These are little devices that can be worn on someone's belt," Harvey said.

They're about the size of a cellphone and can help a warden determine if something suspicious is radioactive.  It wouldn't necessarily have to be connected to terrorism: radioactive materials used in the energy and medical industries can be illegally dumped.

Game wardens began training with the radiation detectors in January and completed a mock exercise to find radioactive packages along the coast.
In March the Obama administration warned that there were four ways a large-scale nuclear attack on U.S. soil could happen,
The havoc such an attack could wreak in an urban area such as New York or London is concerning enough that leaders scheduled a special session on the threat during the two-day summit. U.S. officials said the leaders would discuss a hypothetical scenario about a chain of events that could lead to nuclear terrorism.
And just last month we learned that ISIS-linked terrorists have targeted at least two nuclear power plants in Europe – one in Belgium in the lead up to the terror attacks in Brussels, as well as a cyber attack on a German plant that made it possible for hackers to take control of highly radioactive cooling rods at the facility. Moreover, as far as Europe is concerned, officials report that CBRN weapons (Chemical, Biological, Radiological, and Nuclear) have already been smuggled into Europe, suggesting that mass-casualty attacks are in the planning stages.
The threats to America is equally serious, as officials have reported that terrorists have already been captured attempting to cross into the United States through our southern border. Moreover, in recent years there have been numerous cases of nuclear material capable of being used in dirty bombs being stolen from facilities in Mexico.
The issue was so serious that the Texas Rangers were dispatched to secure the southern border amid the threat.
Though ignored by most Americans as an implausible scenario, the fact that DHS recently announced they will be holding a mock poison gas attack in New York suggests that officials are growing more concerned with the potential for a serious attack on key U.S. cities.
Should a chemical, biological, radiological or nuclear attack become reality, the panic would be unprecedented. Large scale evacuations of entire cities or regions would be likely, and thousands could die or be sickened because of a lack of protective equipment against CBRN attacks.
That terrorists are actively targeting nuclear power plants is a warning sign that should not be taken lightly. The goal is mass casualties, and CBRN devices would be the optimal weapons used.
Also Read:
CBRN Gear: The Most Advanced Tactical Gas Mask System In The World
The Prepper's Blueprint: A Step-By-Step Guide To Prepare For Any Disaster
White House Warns Of Nuclear Terrorist Attacks: The Four Ways They Could Strike…
Terrorists Captured At Mexico Border… But Homeland Security Denies Any "Credible Threats"
7 Natural Supplements You Should Have in Case of Nuclear Fallout
Weapons Of Mass Destruction Have Been Smuggled Into Europe: "Chemical, Biological, Radiological, Nuclear"
SHTFplan and Mac Slavo www.shtfplan.com