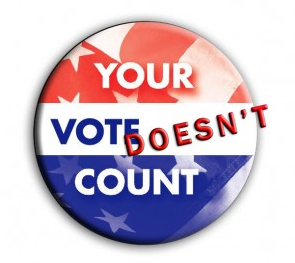 This GOP official made a brazen admission that, well, voting doesn't matter.
If you haven't come to terms with that fact, then it's probably about time that you did.
Given the complex and deliberately obscure rules that the Republican and Democratic parties create for themselves, it is clear that it is not the voters of this country, but the insider party officials who actually determine who our leaders will be.
This system is hardly a democracy, but it is reality.
Many have surmised as much, as they watch the country going down the tubes year after year, but now their suspicions have been confirmed. CNBC reported:
Political parties, not voters, choose their presidential nominees, a Republican convention rules member told CNBC, a day after GOP front-runner Donald Trump rolled up more big primary victories.

"The media has created the perception that the voters choose the nomination. That's the conflict here," Curly Haugland, an unbound GOP delegate from North Dakota, told CNBC's "Squawk Box" on Wednesday. He even questioned why primaries and caucuses are held.

[…]

This could lead to a brokered convention…

"It could introduce Paul Ryan, Mitt Romney, or it could be the other candidates that have already been in the race and are now out of the race [such as] Mike Huckabee [or] Rick Santorum. All those people could eventually become candidates on the floor," Emineth said.

[…]

"The rules haven't kept up," Haugland said. "The rules are still designed to have a political party choose its nominee at a convention. That's just the way it is. I can't help it. Don't hate me because I love the rules."
They make the rules, they break the rules, everyone else follows their decision.
It's not like the Democrats even offered a real choice against Hillary Clinton – instead, the illusion of voting has moved forward, while the party tightly locked around super delegates and byzantine procedures to ensure that the decision had already been made before a single vote was cast.
Power tends to corrupt, and create institutions for holding onto power. That cycle repeats, intensifies and expels excrement, corruption and tyranny.
This network of control had allowed connected insiders, rich billionaires and elite, global architects to steer elections, select candidates and tilt the system in their favor.
As Mark Twain keenly noted: "If voting made any difference they wouldn't let us do it."
Read More:
The Shadow Government Blackmails Everyone (Why Voting Doesn't Matter)
Shocking Hidden Video: America's Voting System is a Complete Farce
Election Results: "What's Going To Change Is Only Who Is Going To Screw You — Not Whether You'll Get Screwed"
Hostile Takeover: Ron Paul Delegates Barred From Voting at the Republican National Convention *Video*
SHTFplan and Mac Slavo www.shtfplan.com