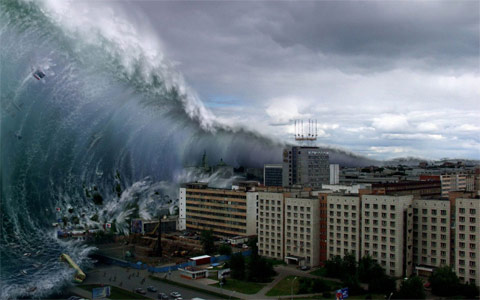 Depending on your outlook, this could be the ultimate in survival gear.
In the wake of an extreme threat – such as a tsunami or earthquake – this capsule could be the best place to withstand the impact, no matter what.
It is water-tight. It is extremely durable. It floats, and it can withstand against the impact of super-strong winds, crashes, heat and many other factors.
For the right price, it could hold between two and ten people, protecting them from literally just about anything that could come your way.
As the London Guardian reports:
The Survival Capsule – a personal safety system in the form of a giant ball – has been designed to combat this issue.

This capsule, which features two small porthole windows so the occupants can see what is going on around them, was created to give individual groups and families more control of their survival in emergency situation than traditional 'safe houses.'

It is designed to float so it will never be inundated by water levels rising too high, as they do in tsunami situations.

[…]

The sphere is designed to withstand the initial impact of a natural disaster, as well as sharp object penetration, heat exposure, blunt object impact, and rapid deceleration.
Occupants are strapped in to the seats with crash-test proof seat belts and can expect to survive in spite of rampant destruction and perhaps unsurvivable conditions.
It appears that the unfortunate loss of life and vast property destruction that took place during some of the most recent tsunamis inspired the ball's inventors to hedge against all possibilities.
Since earthquakes, tsunamis, volcanoes, hurricanes and other extreme weather events seem to be increasing right now, particularly surrounding the Ring of Fire, that could be a good thing.
Watch the video:
The test model is bright red and would be easily spotted by rescue crews once they arrive for clean-up after the event, though it could be camouflaged for those who also want to stay off the radar after a SHTF situation in which the political situation may be part of the threat.
Read more:
The Prepper's Blueprint: Your Step-by-Step Guide to Survive Any Disaster
The Ultimate Prepper Bug Out Home
Elite Bunker Down in "Secure, Safe Rooms Hidden in Plain Sight"… And You Can, Too
The Safest Areas in America: An Expanded Western Relocation Zone
Nukes and Fallout: How to Survive When Others Won't
SHTFplan and Mac Slavo www.shtfplan.com