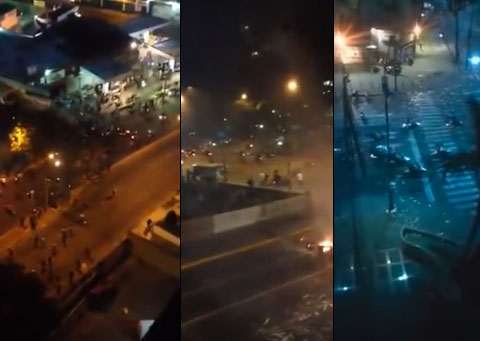 Venezuela is in complete chaos as a result of their economic collapse.
And as a result, state-rationed food and groceries have run out, prices are hyper-inflated and millions of people are waiting in huge lines for any goods that are available. Black markets have gone boom, with neighbors making necessities available to other neighbors, but they must avoid crackdown from a jealous State that is desperate to hang onto power.
The free-fall of oil prices on the global stage has snapped the South American socialist nation into sudden and harsh disaster. Venezuela has slightly more oil than Saudi Arabia, and trades the second largest volume, after OPEC, and was even more vulnerable than Russia to the economic warfare that has taken place in the last few years.
Things are very bad now, and they were already falling apart. Nicolas Maduro took over after Hugo Chavez' death in 2013, but without the force of Chavez' cult of personality, he has been unable to hold an already unrealistic economy together any longer – and the people are on the verge of complete revolt.
A politically weak Maduro has apparently now taken to using an iron-fist, with reports and video claim that Maduro has been backing paramilitary death squads to take out dissenters, and these execution gangs have been more or less randomly mowing down anyone they think might be sympathetic to anti-Maduro protests. This was true in the Chavez days, but this form of repression is now much more naked.
With state control of the media in Venezuela, and an unwillingness to report on the part of the international press, it is difficult to know all the facts. Indeed these developments have gone virtually unreported, but some of it has surfaced on YouTube.
The Caracas Chronicles is one of the rare sources to report what is really happening:
What we saw were not "street clashes", what we saw is a state-hatched offensive to suppress and terrorize its opponents.

[…]

Throughout last night, panicked people told their stories of state-sponsored paramilitaries on motorcycles roaming middle class neighborhoods, shooting at people and  storming into apartment buildings, shooting at anyone who seemed like he might be protesting.

People continue to be arrested merely for protesting, and a long established local Human Rights NGO makes an urgent plea for an investigation into widespread reports of torture of detainees. There are now dozens of serious human right abuses: National Guardsmen shooting tear gas canisters directly into residential buildings. We have videos of soldiers shooting civilians on the street.

And that's just what came out in real time, over Twitter and YouTube, before any real investigation is carried out. Online media is next, a city of 645,000 inhabitants has been taken off the internet amid mounting repression, and this blog itself has been the object of a Facebook "block" campaign.
The crack down on the population of Venezuela is truly massive and very chaotic, as much of the footage shows. Indeed, a coup against Maduro may be underway, but he is not going down without a despicable attack on the people who oppose him.
Raw footage on YouTube (warning: some footage is graphic):
This video purportedly shows pro-Maduro, pro-government militia squads firing tear gas into residential apartment buildings:
Is this how things will go down in the United States in the aftermath of the planned collapse of the economy and the destruction of the American standards of living?
Though Venezuela seems world's apart from the events in the United States, this same level of unrest can grow quickly along the lines of division that have been sharpening under President Obama's two terms and the false "recovery" imposed by bankers intent on bringing everyone to their knees.
For now, the biggest difference is that Americans still have their guns, and the militia are still of, by and for the people.
Stay prepared, and stay vigilant!
—
Follow more of this story at The Caracas Chronicles.
Read more:
Collapsing Venezuela Is Out of Food: "Prepping Became Illegal", Long Lines Mandatory
Falling Oil Prices Could Cripple 'Vulnerable' Russia, Trigger World War III
Venezuela Enforces Fingerprint Registry to Buy Groceries: What to Do Before Rationing Starts in America
Total System Collapse In Real Time: "Due to the Shortage of Food… the Desperation Is Enormous"
SHTFplan and Mac Slavo www.shtfplan.com