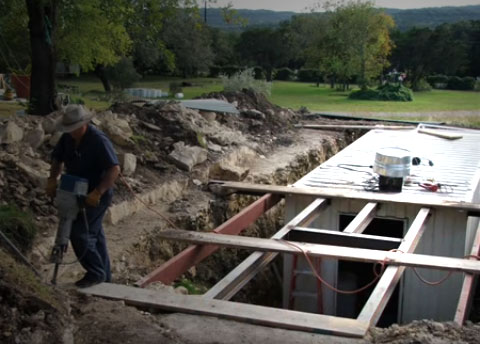 In a SHTF event, underground is exactly where many people plan to go to ride out the storm of whatever has descended upon society.
With brewing unrest and economic collapse, the elite have poured millions of dollars into luxury underground communities – many fitted to be more like five-star hotels than emergency bunkers. Even the Davos elite have expressed worry. Those with the means to do so hope to use private planes and helicopters to escape and hideaway. Continuity of Government (COG) operations have a parallel government structure in place buried in fortified mountains redoubts that can withstand all contingencies.
For the rest of us, it is only the most well-prepared among us who will have access to underground facilities – where families could seek refuge from marauding masses, extreme weather, criminals and rapists, police sweeps and paramilitary raids among other scenarios. With the right structure, retreat and hideaway preparations, it could be one of your most important assets.
There are many companies that will install these shelters, but the main barrier for almost every prepper is cost, and a balance of priorities for your limited resources. So it is no surprise that many people have figured out how to build their own.
There's plenty of disagreement over what methods are best, and sufficiently safe enough, to endure time, the elements and the incredible weight of the earth when considering underground shelters. Further, everyone will have different preferences and needs.
But this man successfully built a very nice looking underground shelter using a 20′ shipping container, with a reinforced concrete entrance using a process that is simple enough to be DIY, with the exception of lowering the container into the ground, and the use of heavy equipment to excavate the earth (which could be DIY).
Whether you think buried shipping containers are ideal, or disastrous, is worth checking out this idea from Wayne Martin's YouTube channel:
Final attempt to record building of an underground shelter using a 20 ft. shipping container. For those wondering why I didn't simply pile dirt over it without pouring a concrete cap first….. These containers are mostly sheet metal. Heavy duty as it is, the roof and sides will push inwards from the weight. Eventually the metal will rust through and you'll be buried alive. My way will insure it is still there a few hundred years from now. Problem is, you'd better keep an eye on your sump pump. If it goes bad or loses power, you'll go in one day and find it the whole thing flooded. A surface alarm letting you know the water level is above where it should be isn't a bad idea. Putting the sump pump on a UPS is also a good thing.
Some have ruled out shipping containers, however, because water and moisture are such important considerations, and these metal boxes are not water tight without being sealed up and reinforced, in spite of the sump pump system which is basically mandatory for these structures.
SHTF commenter "Genius" explained that, for this reason, he recommended building a shelter inside a 2000+ gallon septic tank, which is plenty large enough for people and supplies, and is built for water tightness:
Hey Man, you might want to rethink the buried container idea. I have seen first hand a man that buried a container and the next spring it had 3 feet of water in it. They are anything BUT waterproof! You will waste a lot of money and labor if you think it will seal your stuff. A better idea is to bury a few (or a lot) of the biggest plastic septic tanks with good lid seals, they are not as roomy but way way better sealed and rustproof and a hell of a lot easier to haul to your location and bury. If you buried oversea containers where would you get rid of all the excess dirt, how would you hide that? A 2000 gallon septic tank is big enough for 4 people and quite a few supplies. You also need to think about a powered ventilation system, I use 12 volt computer fans with 3 inch pvc pipe, a sealed 12 volt battery, a 20 watt solar panel and a small charge controller. get 2 batteries and a 50 watt panel and you can run your radio and charge small things and have light (led). Please think again before you waste your precious resources on buried containers, you will thank me later
This YouTuber, RealWorldReport, shares his approach on how to build a buried structure from scratch with lumber – and on a limited budget:
Mike Oehler wrote the classic book The $50 & Up Underground House Book on building underground homes on the cheap back in the 70s, geared towards minimalists and off-the-gridders.
Many of these same ideas can be utilized in tailoring an underground shelter plan for your prepping needs. They center around sound principles of construction, using found or cheap materials, consideration for a water/moisture barrier, novel solutions to water runoff that could damage an improperly built underground home, and general principles for concealing your home and blending in with the beauty of the natural environment.
Depending upon your situation, a well thought out panic room can be built – and concealed – in your existing structure, or a closely connected one either above or below ground. Joel Skousen is the leading authority on the DIY, common sense and time tested strategies for The Secure Home – including how to reinforce your entire home, as well as how to construct a protected and unnoticed safe room for any emergency that may arise.
Further Reading:
Elite Hiding in Bunkers to Escape War with China: "Intended Survivors Are Moving Underground"
Prepper's Blueprint: The Step-by-Step Guide to Help You Through Any Disaster
The $50 & Up Underground House Book
Prepping Expert Joel Skousen's The Secure Home
Doomsday Planning: Underground Shelter Networks
Elite Bunker Down in "Secure, Safe Rooms Hidden in Plain Sight"… And You Can, Too
SHTFplan and Mac Slavo www.shtfplan.com